4 Delicious Sandwich Recipes
1- Pepperoncini Sandwich
Ingredients
2 thick slices whole wheat bread
2 tbsps cream cheese, softened
6 slices cucumber
2 tbsps alfalfa sprouts
1 tsp olive oil
1 tsp red vinegar
1 tomato, sliced
Directions
Get a bowl and mix the blue cheese with some mayo.
Coat your bread with 2 tbsps of this mix.
Place a quarter of your chicken breast on four pieces of bread.
Then layer the following on each piece: lettuce, avocado, hard boiled egg, beef, another piece of bread.
Enjoy with some blue cheese on the side for dipping.
2- The Brooklyn Style Sandwich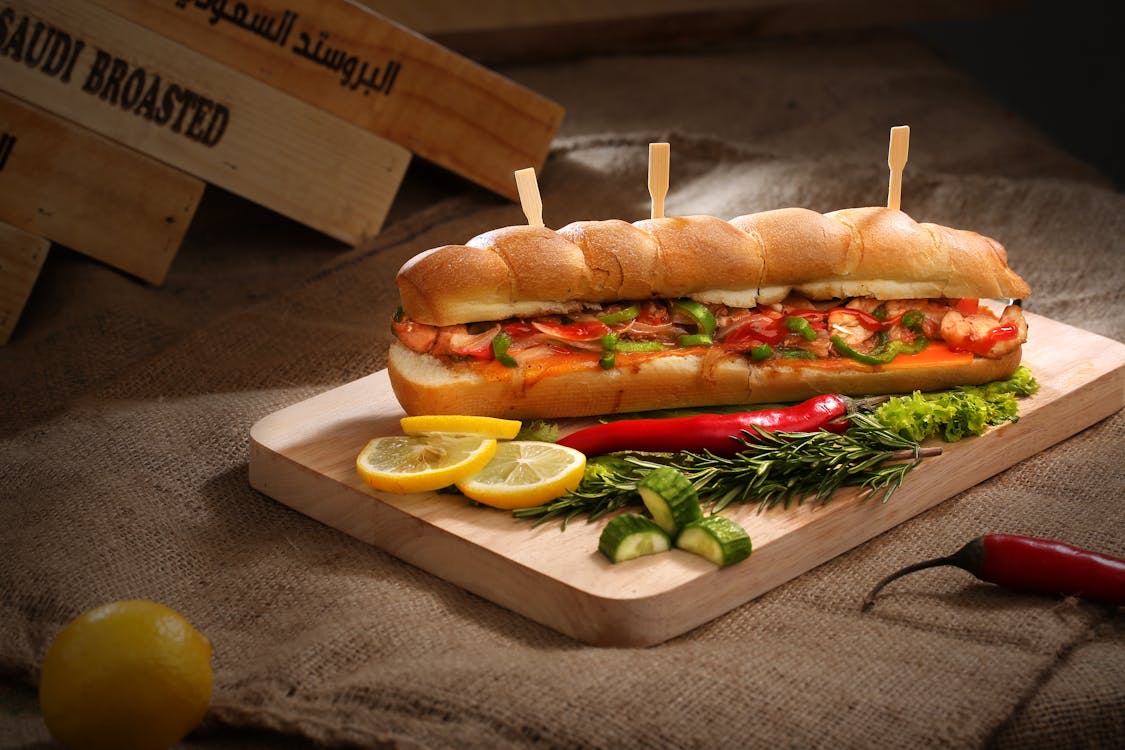 Ingredients
3 C. shredded cabbage
2 tbsps vegetable oil
2 tbsps apple cider vinegar
2 tbsps white sugar
1 tsp adobo seasoning
1 tsp ground black pepper
4 C. vegetable oil for frying
3 whole russet potatoes
8 thick slices Italian bread
1 lb sliced pastrami (divided)
4 slices provolone cheese
8 slices tomato
Directions
Get a bowl and combine evenly: black pepper, cabbage, adobo, veggie oil (2 tbsps), sugar, and vinegar.
Get a large pot and get your oil to 375 degrees then set your oven to 225 degrees before doing anything else.
Dice your potatoes into slices and fry them in the oil for 6 mins.
Now place the potatoes to the side.
For 6 mins toast your bread in the oven.
On 4 slices of bread layer: pastrami and cheese.
Now toast the pieces for 4 more mins to melt the cheese.
Layer the following on the pastrami: 2 tomato pieces, cabbage mix, fried potatoes, and another piece of toasted bread.
Enjoy.
3- Countryside Beef and Mushroom Sandwich
Ingredients
1 loaf hearty country bread, unsliced
3 tbsps vegetable oil, divided
1 (3 lb) boneless beef round steak, 2 inches thick
1 onion, thinly sliced
2 C. sliced fresh mushrooms
1 clove garlic, minced, or to taste
salt to taste
ground black pepper to taste
garlic salt to taste
Directions
Slice off a piece of bread from the loaf and keep it for later.
Now remove the inside center of the loaf.
This space is to be filled later.
Fry your steak in 1 tbsp of veggie oil for 6 mins per side then place the steak to the side.
Stir fry your mushrooms, onions, and garlic for 7 mins until the onions are see through
in 2 more tbsps of veggie oil.
Fill the hollowed bread with: the mushrooms, onions, and steak.
Put the first piece of bread you sliced off earlier back on the loaf.
Now cover everything with foil.
Lay the bread in a casserole dish and place something heavy on top of it. Like a cast iron frying pan with jars of water in it.
For 7 hrs let the bread sit in the fridge with the pan on top of it.
When ready to serve, cut the sandwich into servings.
Enjoy.
4- Meatball Madness Sandwich
Ingredients
1 lb ground beef
3/4 C. bread crumbs
2 tsps dried Italian seasoning
2 cloves garlic, minced
2 tbsps minced fresh parsley
2 tbsps grated Parmesan cheese
1 egg, beaten
1 French baguette
1 tbsp extra-virgin olive oil
1/2 tsp garlic powder
1 pinch salt, or to taste
1 (14 oz.) jar spaghetti sauce
4 slices provolone cheese
Directions
Set your oven to 350 degrees before doing anything else.
Get a bowl, combine: eggs, beef, parmesan, bread crumbs, parsley, garlic, and Italian seasoning.
Mold the mix into your preferred size of meatballs and cook them in the oven for 22 mins.
Now cut your bread and take out some of the inside so the meatballs fit better.
Toast the bread for 6 mins in the oven after coating it with some olive oil, salt, and garlic powder.
Get a saucepan and heat up your pasta sauce.
Add in your meatballs to the sauce after they are cooked and mix everything.
Put some meatballs into your bread and then toast the sandwich in the oven for 4 mins before serving.
Enjoy.